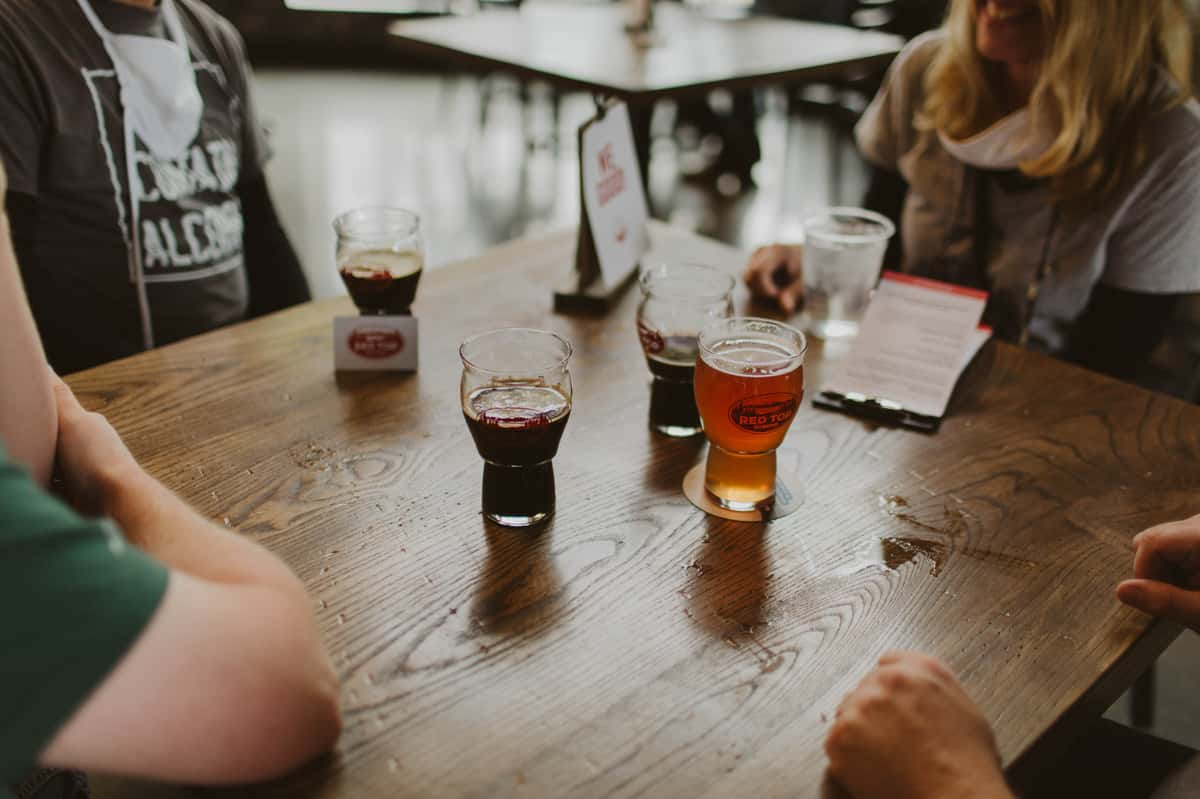 To A New Year
To A New Year
The New Year is one of our favorite times of years. When the clock strikes midnight, it is as if the big hand on the clock wipes the slate clean and allows us opportunities for new beginnings. Some set resolutions, few stick to them, but we'll cheer you on either way. We love to set goals for ourselves on a personal level as well as a business level and use this time at the end of the year to reflect on them.

We stepped into 2020 on a whim and a prayer while counting down the moments until Red Top Brewhouse opened. Construction was delayed due to weather, thus pushing back our opening. We began staffing our management team in March just as the world started shutting down because of the virus. We started doing sneak peek block parties in our parking lot by June. By August, we finally opened. We were missing components thanks to Covid. Our brewhouse was often delayed shipment due to the virus in other parts of the world and the states. So we weren't able to open up with our own beer as we had wanted. We learned quickly that we needed to staff up because our community ate a ton of our amazing Chef-driven from scratch food. That is a good problem to have.

As the dumpster fire of 2020 draws to a hopefully quiet close and a new year dawns, what have we learned from our goals? That this industry changes so fast without a pandemic already, but add it on and we found our goals shifting faster than a five-speed in a street race. We've learned that we love our city of Acworth and all around her. This community has embraced us and we can't hug it back hard enough. They've supported us through our hiccups, supported us when we've succeeded, when we've had to make tough decisions for the safety of our staff and guests. This community also enjoys their craft beer. We first opened with zero of our own beers on, but we're closing the year out with five and many more sitting aging in barrels. We also have brought in guest beers locally and from around the country that you won't find anywhere on this side of town.
Early on, we settled on the hashtag #yourfriendsarehere. It is something so intentionally simple that it is almost easy to look over. But we mean it with every fiber of who we are. We want you to walk into our building, sit at our tables inside or out and feel as if you are a huge part of what we do, because you are. We strive to recognize you by name, by order, but your likes and dislikes because we truly care about the people that are in between our four walls as well as when they leave these walls.

What will 2021 bring you ask? More goals that can shift and change. We can tell you that we will be launching the ability to order food and merch online for to go or for delivery. Red Top Brewhouse made beers will continue to innovate, evolve and challenge the norms of even the oldest beer fan. Our kitchen will continue to deliver on its promise of delivering a World Class menu from scratch to your table in a timely manner that will not sacrifice quality.
What else is in the works? We can't say quite yet. But do know that it is going to be one heck of a ride and we hope to bring you along with us.

Fasten your seatbelts, grab the hand of the closest loved one to you, your friends are here and we're in this together now.