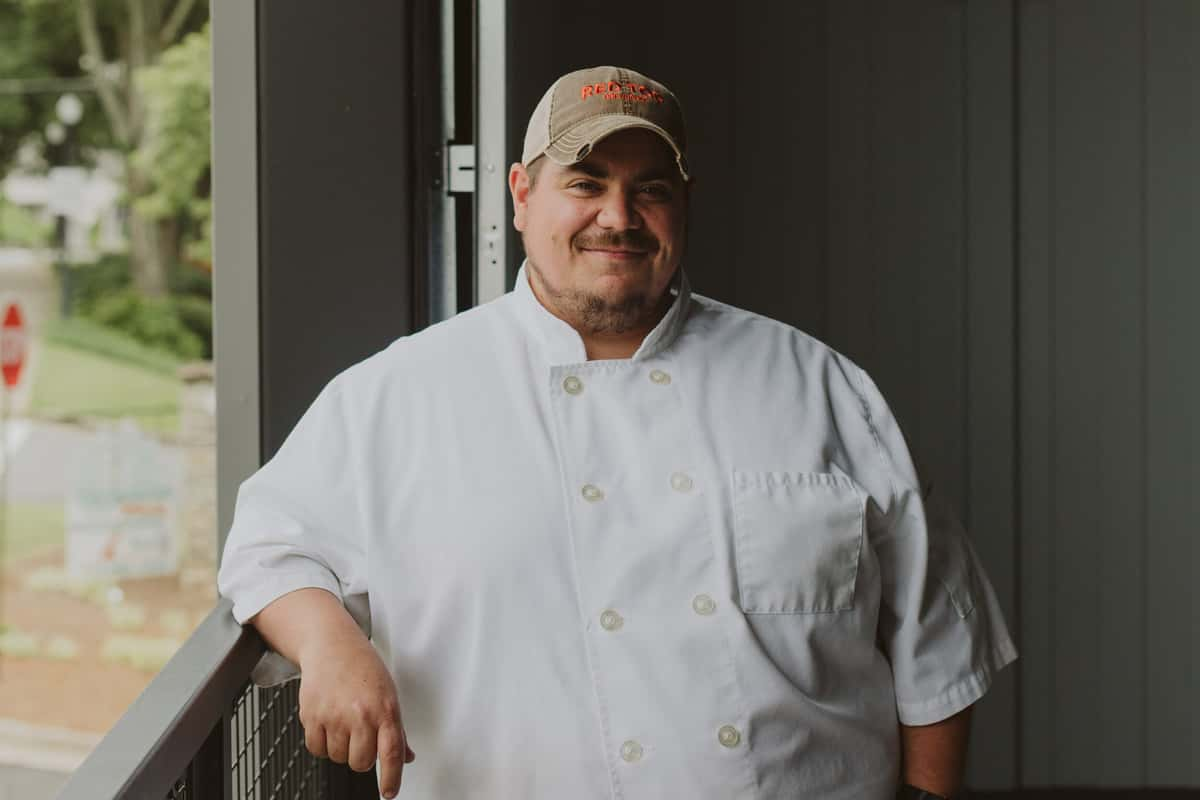 Introducing Chef Bobby King
Introducing Chef Bobby King
Believe it or not, Historic Downtown Acworth has a rich culinary history. Acworth was one of the first Historic Main Streets to take a chance on filling empty buildings with upscale dining experiences. It was a risk, but people flocked to it from all over. Henry's Louisiana Grill solidified Acworth's place in being a destination for some of the best food the state of Georgia had to offer.
Naturally, that played a factor into our search the right person to take our kitchen and craft a menu that was world class on its own to pair with the beer we made to make the dining here more of an experience, rather than a pit stop. We've been a fan of Bobby King's for some time. He helped Freight Kitchen & Tap in Woodstock become a destination of its own. He spent some time at Bacchanalia in Atlanta before returning to Freight to finish what he had started.
What Bobby brings to Red Top is a deep understanding of food, how just the right dish can bring comfort to a crazy season of life, or in our world. Bobby is bringing with him a philosophy the idea that creating from scratch to deliver the best experience possible and that locally sourcing our produce is as important to the local economy as it is to our menu. We are a from scratch kitchen. Everything on the menu is made from scratch.
When asked about sourcing local produce, Bobby had this to say: "Why cooking Locally and seasonally just makes sense to me…
Beit the farmer that grows the cucumbers that will be in your salad or turned into the pickles on your burger, or the guy that sources the cucumbers, to the guy that drives the truck delivering the cucumbers, then the chef that writes the menu. There's a lot of people and a lot of travel that is involved in putting that food on your plate. When you use local, that cucumber gets to your restaurant faster. Not only ensuring freshness but also keeping most of the revenue in the local community. And when you can actually pick up the phone and talk to the farmer in the next town over about how their crops and livestock are doing it makes a big difference. Sure its cheaper to source from a factory farm that's bringing cucumbers by the pallet into GA from Florida or California and those people play an important roll in the industry as well. But when possible, the guy down the street or in the next city over is going to probably take a little more care of your product and look at it as more of a craft than the factory farms."


Bobby created a menu for Red Top Brewhouse guests in mind. An elevated dining experience that is complimented by the beer or wine that you pair it with. It upholds the rich culinary history that the city of Acworth has been known for, and helps nudge it in an upward trajectory. From hand made fries, down to the our vegan friendly Fried Green Tomato Sandwich, expect a menu that surprises, delights and provide comfort in an every growing uncomfortable time.